Theatre
October 10, 2017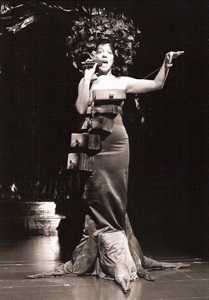 Gina has been involved in the theater as composer, actor and/or musician, since the age of seven, when she played the role of Mole in an outdoor production of Toad of Toad Hall in Teheran, Iran. She founded her own theater company in the 1970s, in London, in an old disused taxi-meter factory in Paddington, and dedicated it to the works of Bertolt Brecht, specifically his collaboration with composer Hanns Eisler, whose songs had just recently been translated into English for the first time. She subsequently worked for several years with a long-standing street theater company in Hackney, before quitting London and the theater for the life of a musician on the west coast of the United States. There she ran into the Flying Karamazov Brothers (a long story), and eventually ended up back on the boards in an historic production of The Comedy of Errors at the Goodman Theater in Chicago and eventually Lincoln Center, by way of the Los Angeles Olympic Arts Festival (another long story) ("Gina Leishman….and a few others have a genuine affinity for the Shakespearean language." Mel Gussow, NY Times), since when she has periodically returned to the boards.
Other theaters she has worked with as an actor include La Jolla Playhouse (A Feast of Fools, Don Quixote de la Jolla), Berkeley Rep (Twelfth Night, Endgame), Seattle Rep (The Brothers Karamazov), and BAM's Next Wave Festival (Stravinsky's The Soldier's Tale, also with Robert Woodruff and the Flying Karamazov Brothers).
Directors she has worked with include Robert Woodruff, Lisa Peterson, Daniel Fish, Jonathan Moscone, Karin Coonrod, David Esbjorson, Daniel Sullivan, David Gordon, Sam Woodhouse, Tony Taccone, Richard Seyd, Loretta Greco and many others.
MUSIC FOR THEATER
Her work as a composer in the theater has been extensive, including 2 Broadway shows with the Flying Karamazov Brothers; NYSF/Public Theater, La Mama, CSC, the Talking Band and the Vineyard Theater in NYC; Guthrie Theater, La Jolla Playhouse, Dallas Theater Center, Yale Rep, Seattle Rep, California Shakespeare Theater (Associate Artist), Berkeley Rep, San Diego Rep, Dell'Arte, Portland Stage, and many others.
Selected Titles – Press – Listen
SELECTED PERFORMANCES
ORFEO IN ORVIETO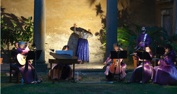 An adaptation of Monteverdi's opera, directed by Karin Coonrod, arranged and conducted by GL, and premiered at Palazzo Simoncelli, Orvieto, Italy, in July 2014. Created for a small cast and chamber ensemble, with additional text from Ovid, Rilke, Dante and others, and performed in the courtyard of a Renaissance palazzo, bringing the story back to its roots and to the people of the region.
THE WORLD IS ROUND IS ROUND IS ROUND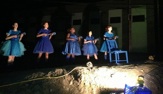 And adaptation of the Gertrude Stein book "for children and philosophers" by Karin Coonrod for Colombari, with music written and perfomed by GL as the character of Alice B. First reading 2001 (DTW, NYC), workshops 2010 (NYC) & 2012 (Colgate NY), premiered 2013 (The Mill, Averill Park NY), coming to BAM Next Wave fall 2015
SEPTIMUS AND CLARISSA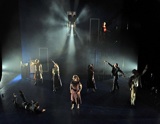 An adaptation of Virginia Woolf's classic novel, Mrs. Dalloway, adapted by Ellen McLaughlin, directed by Rachel Dickstein, music by GL, produced by Ripe Time. Ripe Time is a theater company devoted to producing ensemble driven theater infused with rich language, visual power and physical rigor. We did an exploratory workshop in November/December 2010; a workshop production at CSC in June 2010 with Ellen as Mrs. Dalloway, and GL leading the onstage instrumental ensemble. The premiere was at Baruch Performing Arts center, NYC, in September 2011. The score was nominated for a DramaDesk award for Outstanding score in 2012.
UNCIVIL WARS: COLLABORATING WITH BRECHT AND EISLER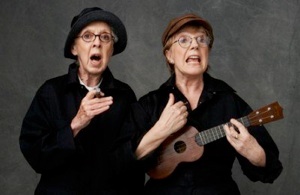 An adaptation by director and choreographer David Gordon of an early piece by Bertolt Brecht and Hanns Eisler called Roundheads and Peakheads (originally based on Shakespeare's Measure For Measure). Apart from adapting, arranging, directing and playing the music, Leishman plays the role of Hanns Eisler opposite Valda Setterfiled as Brecht, along with a cast that includes John Kelly as the Mother Superior and the Madam of the whore house. First performed at The Kitchen, in 2006, and subsequently at the Walker Arts Center, Minneapolis, and Peak Performances, Montclair NJ (2009).
A FEAST OF FOOLS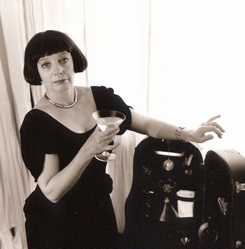 A comic duo with clown/actor Geoff Hoyle, this is a show without words (except for some singing), interweaving the best of Mr. Hoyle's memorable character pieces (Two Waiters, Three Legs, Hoylo, etc.) accompanied by Ms. Leishman at the grand piano and various and sundry other instruments. Life, death and other cheerful topics are viewed through the prism of the fractious on-stage relationship between two veteran performers.