Bird Of The Inner Eye
April 6, 2019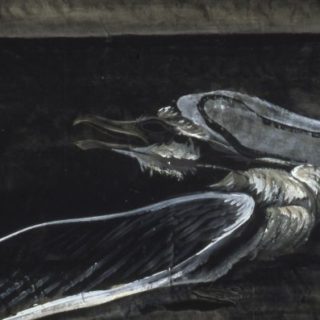 Bird of the Inner Eye" is a chamber opera for 5 singers;  piano, cello, clarinet, accordion, and multiple percussion including glass armonica, piano harp and electronics.  It is based on the life and letters of American painter, Morris Graves (1910-2001).
Graves was part of a group of Northwest painters in the late 1930's who felt morally obliged to create art that spoke to the turmoil of their time. Suddenly famous after being 'discovered' by a MoMA curator in 1942, at the same time he was forcibly inducted into the US Army . Some of his greatest works—many with birds as subject/symbols—were created from 1939 – 1950, out of his response to the war as a conscientious objector, his depression following his 1943 release, and the bombing of Hiroshima in 1945.
Our opera is a story of human dilemmas as told by birds.  Bird of the Inner Eye asks what artists can do in times of world distress and turmoil.  In spite of his struggles against war, against the degradation of the natural world, against the corrupting influence of fame, Graves never lost hope in humanity nor gave up the work of art-making. Crucial to his success were women throughout his career—his mother, art dealer, friends and muse, and the women curators and patrons who believed in his talent. Our opera gives them prominence, as well as to the natural world he fought to protect.
"I want to say with paint that the creation is infinitely, infinitely more than meets the eye, that a bird is vastly more than a miracle of life and form—that an eagle is not an eagle, but a God-gesture and a power, and that he is not detached and in the sky but in our souls." –Morris Graves, 1943, 3 months after the army discharged him as 'unfit to serve.'
Graves' writings reveal a ninety-year journey of individuation, what Jung called a "process of transformation whereby the personal and collective unconscious are brought into consciousness." Graves' 20th century journey is coded in his paintings and illuminated through his passionate, humorous, mischievous and poetic writings.  His journey gives inspiration to ours.
"There is an other-worldliness to the way I write that connects to Graves' mysticism. The essential paradox of his nature is very close to mine." – Gina Leishman
"The more I worked with Graves' correspondence, the more it seemed that music was the way to communicate the lyricism of his writing, the theatricality of his personality, the depth of his connection to the natural world. Opera seemed the richest way to communicate the resistance, love, transcendence, and contradictions he faced along his path. And I wanted to give voice to the women who supported and inspired him. " Joan Schirle
1st partial reading in Oct. 2019 at Dell'Arte International, Blue Lake CA.
2nd workshop with 3 concert performances in August 2021, in conjunction with Dell'Arte International and the Arcata Playhouse.
Cast: David Belton Powell (tenor), Morris Graves; Jodi Gilbert (soprano), Spirit Bird and Bird 1; Dina Emerson (mezzo), Jan Thompson & Bird 2;  Elisabeth Harrington (soprano), Marian Willard & Bird 3; Joan Schirle (alto), Army officers & Bird 4
Musicians: Nancy Corell, piano; Michael Moore, clarinet; Garrick Woods, cello; Gina Leishman, accordion, glass & electronics [with Dina Emerson, glass; Elisabeth Harrington, piano harp]
Sound: Russ Cole
Lights: Michael Foster
Videography: David Ferney
Development has received funding from OPERA America's Opera Grants for Female Composers program, supported by the Virginia B. Toulmin Foundation.
Audio excerpts from August 2021 rehearsals (All music ©gcqmusic)