Music/Ensembles
October 10, 2017
THE LEISHMAN SONGBOOK

– GEOGRAPHY
12 encounters with landscapes both beloved and unknown, this latest recording is a coming together of the disparate threads of Leishman's recent life, covering the last 5 years of triangulated living – from New York to the wilds of Scotland and Northumbria and the warmth of Mediterranean islands…  Due for release spring 2018.
GL, vox, piano, mandola, baritone uke; Dana Lyn, violin; Marika Hughes, cello; Doug Wieselman, clarinet, mandolin, guitar; Greg Cohen on bass. With special guests  Marc Ribot, Charlie Burnham, Matt Munisteri, Steven Berstein, Peter Apfelbaum, Isaac Alderson, Dave Hofstra, Kenny Woolesen and Mauro Refosco.
– BASELESS RUMORS
Volume III of the Leishman Songbook, although more instrumental than song, The ensemble just keeps getting smaller – less is more… not only no drums, but now no bass. Searching for transparency. If Vol. I was mostly dark, late-night ballads, and Vol. II was generally sunnier hammock-songs, then Vol. III is more from the "chamber music" corner of Leishman's brain, as much instrumental as vocal – still narrative based, but not always with text… released 2011.
GL, piano, vox, accordion, glass; Charlie Burnham violin; Marika Hughes, cello; Doug Wieselman, clarinets
– IN MY SKIN
A follow-up to Bed Time, IN MY SKIN, released in 2007, is an intimate collection of 12 new songs. Where Bed Time was primarily dark nocturnal ballads and featured a mixed all-star roster of downtown musicians, most of these songs were written on the baritone ukulele during afternoons in a hammock, so it seemed natural to form a "string quartet" – again an all-star collection (see above). With guest appearances by Marc Ribot, Todd Sickafoose and Kenny Wollesen, this is Vol. II of the Leishman Songbook.
GL vox , baritone ukulele and piano; Charlie Burnham violin; Matt Muisteri guitar; Greg Cohen bass
– BED TIME
Vol. I of the Leishman Songbook, released in 2004, was the first document of her work not just as composer and arranger but as a singer/songwriter – a collection of her favourite songs that she had written both for herself and for others over the past years. Largely ballads, chief amongst them are two distinct groups: those that she wrote for herself as a document of the heart; and a number of settings of Shakespeare, written for others to sing, and play, at the California Shakespeare Theater – but Shakespeare as he is rarely heard…
Greg Cohen and Trevor Dunn, bass; Kenny Wollesen and Roberto Rodriguez, drums and percussion; Marc Ribot, guitar; Doug Wieselman, guitar and clarinets; Anthony Coleman, piano; Steven Bernstein and Peck Allmond, trumpet; Jenny Scheinman, violin; Rob Burger, accordion; JD Foster, producer.
KAMIKAZE GROUND CREW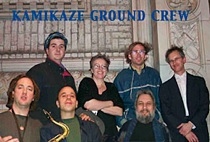 A seven-piece horn ensemble (3 brass, 3 reeds and a drummer), a super-group of New York "downtown" luminaries, each a band-leader in their own right, KAMIKAZE GROUND CREW has been performing and recording together for over 20 years, on both coasts of the US and in Europe. Recent performances include "Forever Weird: Microscopic Kamikaze Jazz Passengers" at The Kitchen NYC (2017). Others include the 2006 San Francisco Jazz Festival and Seattle Earshot Jazz Festival, where they premiered PORTRAITS, Ms. Leishman's commission from Chamber Music America. Concerts in Europe include the Donaueschingen Music Festival in Germany (where they premiered four newly commissioned works), Vossa Jazz Festival in Norway, Frankfurt Jazz Festival in Germany and SJU Festival in the Netherlands. New York venues include Merkin Hall, Joe's Pub, and Tonic.
They have released five albums, two on New World Records' CounterCurrent series, two on Koch Jazz, and one on Busmeat Records (see Discography).  Members of the band have worked with Bill Frisell, Henry Threadgill, Duke Ellington, Stevie Wonder, Norah Jones, Don Cherry, Carla Bley, Lester Bowie, John Zorn, Craig Handy, John Lurie's Lounge Lizards, Tom Waits, Lou Reed, Antony and the Johnstons, Trey Anastasio, and many others.
The original band was formed for the Broadway run of the Flying Karamazov Brothers' Juggling and Cheap Theatrics in 1983, but soon evolved into a vehicle for original composition, whilst continuing to do the occasional theatrical collaboration (including their legendary production of Shakespeare's Comedy of Errors at Lincoln Center – also broadcast live on PBS – and Stravinsky's L'Histoire du Soldat at the Brooklyn Academy of Music's Next Wave Festival). Originally based in San Francisco, the all-New York line-up was put together in 1995, and is:
Gina Leishman, co-leader, alto and baritone sax, bass clarinet, accordion, piano, vocals
Doug Wieselman, co-leader, Eb, Bb & bass clarinets, tenor & baritone sax, guitar
Peter Apfelbaum, tenor sax
Steven Bernstein, trumpet & slide trumpet
Art Baron, trombone
Marcus Rojas, tuba
Kenny Wollesen, drums & percussion
Alumni of the band include Michael Blake, Ralph Carney, Bud Chase, Jeff Cressman, Danny Frankel, Bob Lipton, Paul Magid, Roy Nathanson, Howard Patterson, and Mike Sarin.
Their latest recording, Postcards From The High Wire, was released in 2007. Seven years since their last one, and featuring their trademark widescreen sound that has been called "pure ear candy", Postcards includes recordings of the Donaueschingen commissions as well as other favourites from the recent stretch of their 25-year-long scenic route.
MR. WAU WA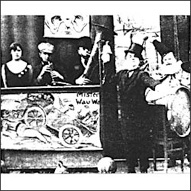 The Mr. Wau Wa Band was formed in 1998 as part of a project at P.S 122, which was celebrating Bertolt Brecht's centenary. The band was inspired by a photo of Brecht from the '20s, performing with some clowns including the famed Karl Valentin and his partner Liesl Karlstadt. Brecht is standing in a cart playing the flageolette, behind a roll-down cartoon drawing of a strong-man being run over by a car full of revellers, with the inscription "Mr. Wau Wa". The band is dedicated to performing the songs of Bertolt Brecht as set by his collaborators Kurt Weill, Hanns Eisler, and Paul Dessau, as well as some contemporary settings by David Hidalgo (from Los Lobos). Formed with four members of Kamikaze Ground Crew, plus the internationally renowned performance artist Rinde Eckert.
Gina Leishman – vocals, accordion, pump-organ
Rinde Eckert – vocals, pump-organ, accordion, euphonium
Doug Wieselman – guitars, clarinet, saxophone, vocals
Marcus Rojas – tuba, bass trombone
Kenny Wollesen – drums, percussion
GLASS MUSIC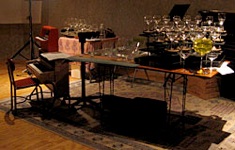 Over the years Gina has returned periodically to her interest in playing glass, which culminated in her commissioning the building of the Glass Tiers, a sui generis instrument resulting from the desire to be able to both micro-tune and play multiple pitches simultaneously. Projects have ranged from Earwax's MicroTheater (1991) to Marc Ribot's score for Drunk Boat (2006), glass and percussion duos with Kenny Wollesen (1995 thru 2006) and the Glass Summit with Miguel Frasconi (Issue Project Room 2005). She is currently working on a piece for glass and steel, featuring the Glass Tiers, other glass instruments created by Australian glass artist Elaine Miles, and metal sculptures of Beati Perry.
LEISHMAN SISTERS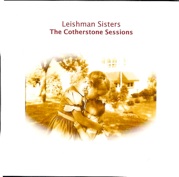 Diana and Virginia have sung together since they were children, mostly for fun, friends and family (Gina did join Diana's band briefly in the late '70s), whenever they find themselves in the same part of the world. Their repertoire is drawn mostly from the British and American folk song tradition, but also includes some of their own. After hearing them sing at their father's memorial in 2006, friends' constant refrain of "I wish you'd make a recording" resulted in "The Cotherstone Sessions", recorded in the cottage at the bottom of their mum's garden over the next couple of Christmases.