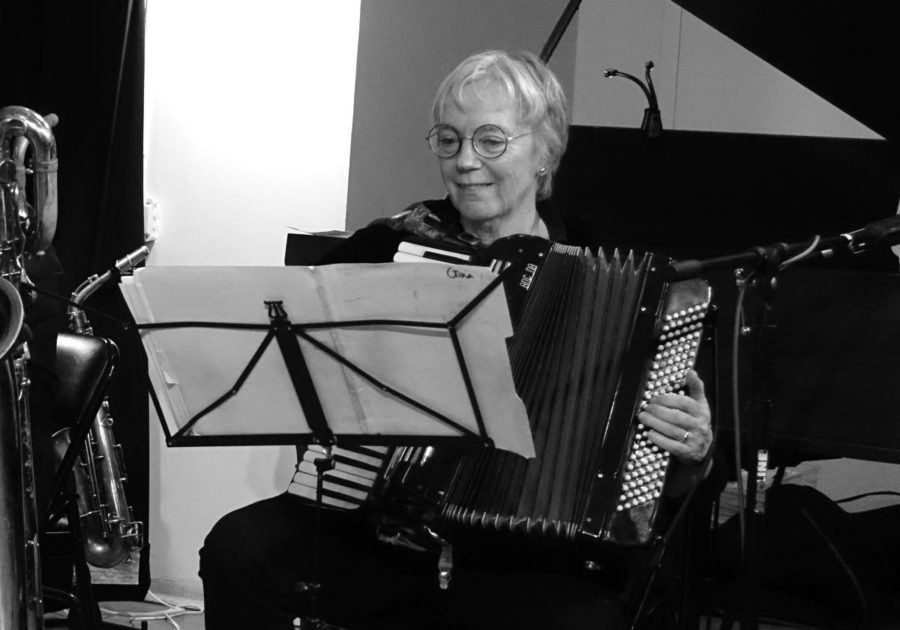 On the late summer afternoon I visited composer Gina Leishman, we couldn't meet in her apartment because it was under repair. A pipe had burst so a friend was loaning her apartment to Gina for a few days; one of those little studio apartments that New Yorkers manage to transform into what seems like a sprawling flat. Nestled on a similarly charming tree lined street, it had the same cozy feel as her old apartment in the West Village, only a stone's throw from the historic landmarks and cultural establishments that Greenwich Village has to offer.
She left me perfect instructions on how to use the intercom but after several unsuccessful attempts I gave up and called her. I apologized for being a nuisance but Gina couldn't have cared less. I was received with a big hug and then we ascended the stairwell, briefly catching up on each other's lives.
Gina's albums are incredibly varied. The jazzier compositions are characteristic of someone enamored with the songs of Duke Ellington/Billy Strayhorn and Hoagy Carmichael. Although she clearly has a foot in the roots of jazz, it is not so much as a player but as a composer that this influence is most evident. Although her piano parts often utilize circular intervallic lines, similar to Thelonious Monk's piece "Mysterioso," the songs don't rely on virtuosic crescendoing solos. They're most often calm, measured tone poems that exist comfortably in their own skin. It's a high wire act so Gina calls on some on her old friends or similarly inclined musicians in New York City to pull it off. Many of her lyrics are stories in song that reveal portraits of poignantly sweet innocence and youth marred with heartache. But there's a biting wit to them as well. The song "New York Wild Life" from Geography (2017) is riddled with such lines:
This New York life is for the birds
they have more fun than me
I see them in the tree
outside my window
A parliament of crows
is what I need to tell my woes to
or should that be murder
Her arrangements are reminiscent of French composers like Satie and Debussy. But there is a particularly British sensibility about them as well. This becomes perfectly clear when she sings her arrangement of "Merry Month of May" and the folk song "The Golden Vanity." Some of the pieces on her 2010 album Bassless Rumors remind me of Brahms' "Trio in A minor for Piano, Clarinet and Cello." Her melodies could be described as haunting because they are memorable and moody but that's an oversimplification. Gina's music is also imbued with subtle rhythmic syncopations that toss her harmonies about. The effect is like when one is at the laundromat, whiling away time, eyes front, hypnotized in spin cycle.
Gina is co-founder of the Kamikaze Ground Crew, a group that evolved from a ragtag marching band into a renowned chamber ensemble, comprising an enclave of some of the best composers, arrangers and instrumentalists in the field of creative music. "If I had known that name would still be around forty years later I might have thought twice. It's not exactly a prestigious kind of name," Gina remarks. "At the time it was perfect for what we were doing because it was fun but when you look at what we've gone on to do, the name has nothing to with how we make music anymore."
There have been several combinations of the Kamikazes but the main faction includes fellow co-founder Doug Wieselman on reeds, trumpeter Steven Bernstein, saxophonist Peter Apfelbaum, tubist Marcus Rojas, trombonist Art Baron and percussionist Kenny Wollesen. The first time I heard this version of the band in concert I was moved by their opening piece "Morning in Bhutan" which unfolded like a magic carpet being rolled out, the flap of its fringe delivering glimmering notes akin to precious stones to my ears. This was the real thing: the Kamikaze's attempt at capturing a mystical experience in sound, to take us on a journey, revealing musicians who are devoted to creating deeply refined music.
Let's go back a decade or more ago to her old apartment in the West Village. It was at one of her winter solstice soirées. Upon entering the living room I noticed a rack of wine glasses, tiered on a platform as if they were meant for a carnival stall bean bag toss. The glasses weren't for drinking, they were instruments for music making, purposefully designed for a shimmering sonata of some kind. I yearned to hear them sing in that warm and friendly room, resonating in perfect pitch with the seasonal scent of mulled wine.
Tiered glasses are just one of the many instruments Gina plays. Piano is her first instrument and she's comfortable on accordion, alto and baritone saxophone, bass clarinet, bandoneon, harmonium, and mandola. When singing she often accompanies herself on the baritone ukulele. Her list of accolades and accomplishments is as remarkable as her multi-instrumental talents. She has scored original compositions for theater, opera, dance, film, TV and the concert stage.
Gina was born in London, the youngest of two daughters. Her father, a distinguished British diplomat, was a fan of traditional jazz and both of her parents were music lovers. Her American mother was employed with the OSS which predates the CIA but she chose to give that up when her husband was stationed in Washington DC. I'm guessing that this would have been in the 1950s so it's impossible for me not to imagine it as anything but charming. And in fact she has fond memories of this time. During the week her parents were always socializing, downing martinis, partying, basically living the diplomat's lifestyle to the fullest. But on Sundays they organized "sing-songs" at which Gina and her sister would perform plays and sing along with the other kids and many of the adults, the latter continuing the alcoholic intake. Her parents' closest friends included a couple from New Zealand. The husband, Pete Jeffrey, was a fantastic pianist who could play anything. Gina recalls sitting at the top of the stairwell listening to him play the piano, cigarette and whisky teetering at the edge of the keyboard, and thinking "that's the life for me." Another friend of the family was Soozi Prentice, folk singer and guitarist who hailed from the American south and after swallowing a few martinis would say in a husky southern drawl, "I feel much more like I do now than I did when I came in."
Gina got her degree in early music at Edinburgh University, and wasn't long before she landed a job at EMI to be the liaison to David Munrow, an early music pioneer in the 1970s.
"The classical world was completely male dominated and even though I was scrappy it just wasn't worth the battle so I left. And in the jazz scene it was the same but the reason I got to work with so many amazing players was because they liked the way I write. And it's as a composer not as a player that I have a voice in that world. That's the drug for me, it's the combination of writing and improvising, the collaborative process. There's nothing like it. From sitting around a campfire to being on a concert stage."
Our conversation occurred before the Kavanaugh hearings would expose us to the vilest kind of arrogance ever displayed by a future supreme court nominee. Despite the fact I was raised by a fiercely independent single mother among two feminist step-mothers, it brought things to the surface in my own self that I had never recognized. At the heart of the #MeToo era I was curious to discuss this with Gina and find out how she's managed to deal with an overwhelmingly male dominated music business.
"I was a pretty cocky kid and I figured I don't care if I'm a woman in a man's world, so why would you? I was always the only girl in the band. It was either all women or all men and me. Maybe it's easier to be the boy in the band that's a girl? It's always been just about the music. Once, when I did a job writing for a jazz orchestra I could feel the vibe. I remember walking into the rehearsal and I thought "Christ, here we go," but I decided, "oh fuck it," and rolled up my sleeves. I had written a movement for bottles -a bottle choir -and they just laughed at me. There were beer and wine bottles, all tuned and everyone got two. It was this whole hocketing piece. By the time we were done with rehearsal they had woken up. Not the first rehearsal, but after a few the mood in the room totally shifted. It was hard work. I thought to myself, I've done that, I've proved it and I don't have to stay in that world and keep doing this."
Gina's thick skin certainly came in useful in her youth. She shared several anecdotes with me that sound thrilling to say the least. Like the time she spent 6 months in 1970's Belfast during the height of "the troubles." Or when she lived with King Crimson's violinist in a squat in London, the same period when a friend asked her to be Musical Director for a new theater. He had acquired the rights to the Brecht/Eisler songbook and they built a theater out of nothing, in an old disused taxi meter factory in Paddington.
She left London in '77 to get back to playing music and returned to the States to play with her sister Diana who had run away from home at 17. Ironically on several occasions when she had saved up and travelled for days to meet her sister, she would arrive only to discover that Diana had left town. One time she heard rumors that her sister was living in a teepee on Prince Edward Island in Canada. They had made no plans to meet up there but when Gina got off the bus there was Diana. "She just had a feeling I was arriving that day and decided to come into town."
It was while she was a street performer in London that Gina acquired the skills to become a member of the famous musical-comedy, juggling-acrobat troupe The Flying Karamazov Brothers. Gina recalls the first time she met them, while in performance at a country fair in Eugene, Oregon.
"The sound got so loud we had to stop playing. This procession came in through the meadow. This marching band, clowns and jugglers and a bunch of musicians playing crazy marching band music unlike any normal marching band music. And I realized that I wanted to know who these people are. And they were the Karamazovs." They reminded her of a similar group she knew in England, "Oh, I recognize this. And it turned out that a few of them were quite good musicians." This is when she met Doug Wieselman and before long they are asked to do a Broadway show.
Gina worked within the Karamazov house band for many years, playing shows in LA, Chicago and New York. Her relationship with Doug Wieselman and the Kamikaze Ground Crew is rooted in this shared experience which explains a lot. I always wondered how such a funky bunch of oddballs could function together so well as a band. "Despite the fact we don't play as often, I know they'll take it somewhere that I can't go by myself and that where we'll go is somewhere I really want to be," says Gina. "I have total and complete trust in that collaboration. I don't think I've had greater pleasure playing with anybody else and it's just because of that."
Photo credit: Ludovico Granvassu